Transform Your Workspace with Desk and Room Management
Discover ROOM MANAGER, the game-changing desk and room booking solution to transform workplace management. Seamlessly integrating with Microsoft Office 365 and Power Platform, this innovative system combines cutting-edge technology with a visually engaging and intuitive interface. Empower your employees to effortlessly schedule, modify, and manage their workspaces while fostering a more dynamic and productive work environment. Say goodbye to booking hassles and hello to a more innovative, more efficient workplace with ROOM MANAGER with the help of AI-driven insights and recommendations.
Room Manager for SharePoint & Microsoft Office 365 offers an all-in-one resource management solution. Efficiently manage various resources, including meeting rooms, desks, vehicles, equipment, catering, visitors, parking spaces, and workspaces. Streamline your office management tasks and optimize resource utilization with this comprehensive platform.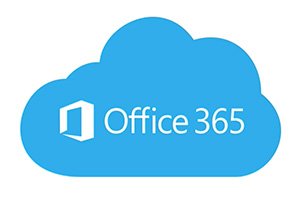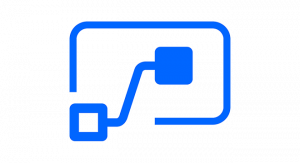 Say goodbye to wasted space, and hello to cost savings.
Our solution simplifies scheduling, accelerates bookings, and adds enjoyment to the appointment process.
Room Manager eliminates the risk of double-booked rooms and resources with its sophisticated booking engine that verifies the availability of a resource, such as a meeting room, for a specific date and time. Employees can effortlessly view availability, locations, and timings by granting access permissions and swiftly reserve individual resources as needed.
Main configurable calendar views to see what is booked for which day, week, or month. Views can be customized in SharePoint. They are powerful features inside SharePoint which sometimes are hidden.
The new SharePoint default calendar in modern experience gives you formating and extension options with JSON.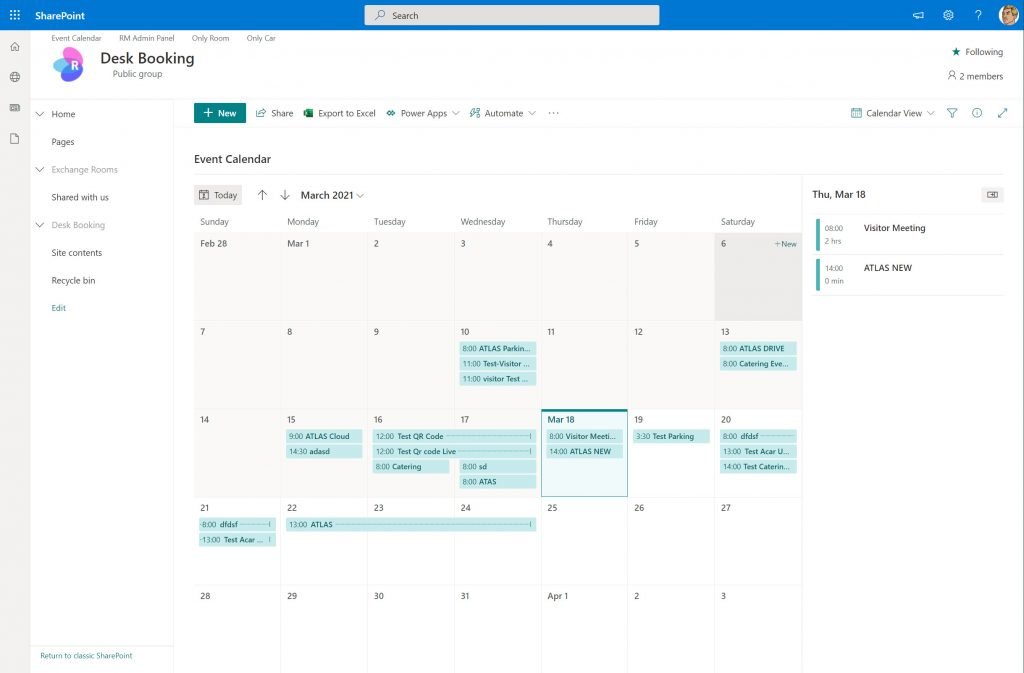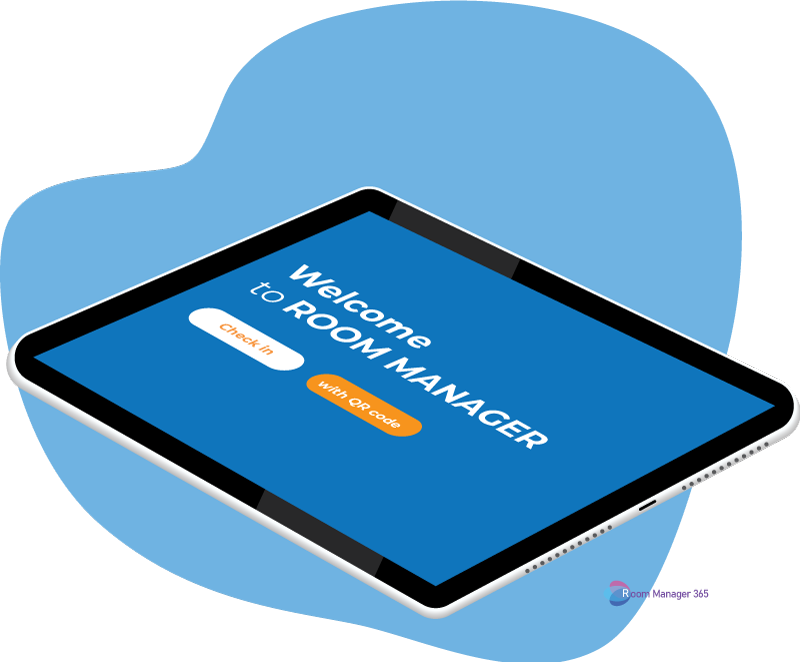 We incorporate built-in lists for rooms, desks, catering, equipment, parking spaces, and more, with amenities as keywords for filtering. The modern experience in SharePoint simplifies the use and customization of lists with your fields. Additionally, you can manage your locations, such as offices and buildings, with bookable resources, making it easy to find the perfect spot based on your preferred amenities.
Keywords
Powerfull tagging feature
The integrated Keyword Filtering seamlessly lets your user find the right resources by using them. Each resource list has a field Keyword and a Sample of a room keyword.
Room Name: Appolo Room Location: 5th avenue Room keywords: 4-seats, Glas View, 1st floor, with catering, AV, Flipchart, VIP Room, Zoom Room, Accessibility
Room Manager Meeting Room Displays help you avoid meeting or resource conflicts by displaying who booked the room and how long for, letting everyone know when the room or resource will become available. For example, if a meeting overruns and no other bookings have been made, the host can extend the current meeting from the screen.
This ensures you will never lose your room before a vital video conference or meeting.
Each device gathers data from the ROOM MANAGER Live Site. It shows you resource booking patterns and helps you make informed decisions on how best to use your workspace.
Interactive floor plan booking simplifies office space management with a visual, user-friendly approach. Employees can quickly locate and book desks, meeting rooms, and resources on up-to-date maps. This efficient method improves the overall employee experience and optimizes office space utilization.
Take your business productivity to the next level by automating organizational processes and flows.
Read more about Power Automate.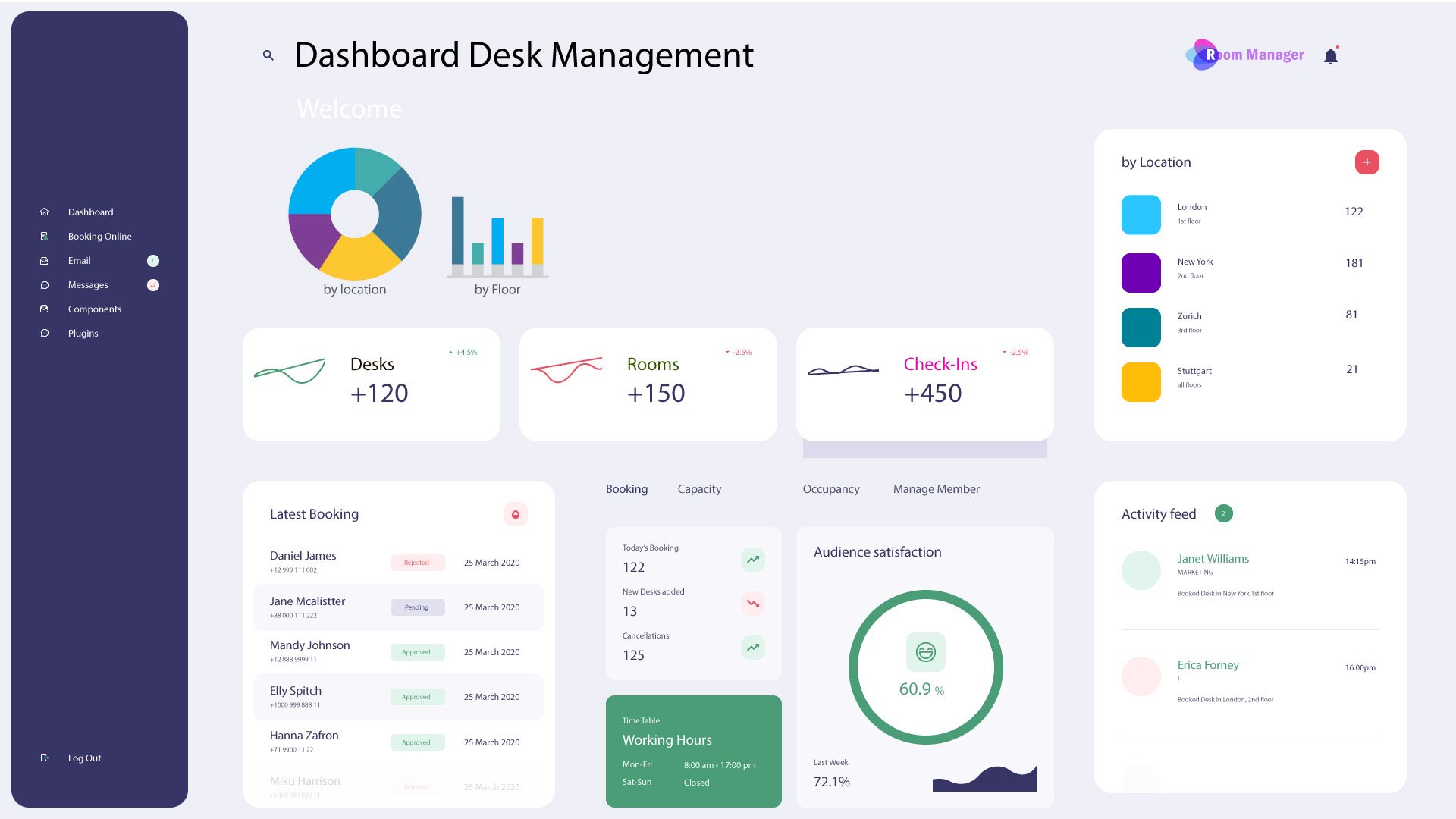 Build custom mobile apps across platforms for iTunes and Android that solve business challenges and requirements.
Desk & Workspace Management
The future is here
Room Manager helps your business revisit the workplace.
Pre-lockdown:
Employees had assigned desks, occasionally worked from home, and didn't need to reserve a desk. They would come to the office and find an available desk. There was no check-in, check-out, cleaning, or sanitization.
Today:
With many employees continuing to work from home due to safety concerns and limited desk availability in the office, it's essential to search for available desks by location and floor plan.
After checking out of a desk, notifications are sent to cleaning services through Power Automate, ensuring proper sanitization.
Employees complete a survey and questionnaire online via the app before reserving a workspace.
Customize workflows using Power Automate to align with your unique business requirements and processes.
Reserve the desk space online before visiting the office. Then, add any business logic or flow by PowerAutomate, like a survey or questionnaire, to ensure you have the user's statement.
Game change
Before your employees even show up at the office, an unmistakable and straightforward structure of where they sit, work, when, and how long will be required for their well-being, trust, and viable reasons.
The innovative power of office plans
Make your booking experience unique. Let your employees search by location and floor the available desks and spaces. And book with a single click.
A flexible working environment is a workplace that does not have fixed seating arrangements and gives employees flexibility when and where they work. This is often facilitated via concepts such as hot-desking or hoteling.
Talk to your SharePoint Administrator in your company
Share the information with your SharePoint or Office 365 Administrator
Download and Install the SharePoint App
The SharePoint Administrator can download the Sharepoint App and activate it. Once done, you can create the Room Manager site on your O365 tenant.
Explore the Room Manager solution by opening different channels to your end-users. Then, talk to us about the best approach for your use cases.